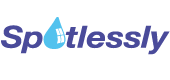 Spotless Glass started in 2001 and since then our business has grown
from fifty office and residential clients to over 2000 customers.
90% of this growth can be credited to word-of-mouth recommendations from other satisfied customers.

At Spotless we know that you go out on a limb to recommend us to a friend. As far as were concerned, there exists no bigger 'thank you' than this. Not to worry. Spotless will never let you down!

Spotless have yet to meet a window we can't clean! From single unit apartment buildings to the most extravagant homes to commercial high rise buildings, Spotless has cleaned them all!